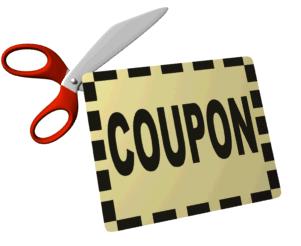 With the holidays around the corner, you may start seeing a squeeze on your budget.  Today, friend, JM Foundation supporter, coupon guru, and guest blogger Katie will share some insight on how to cut costs when shopping for your family.
Katie R:
Want to know why Sunday morning is my favorite time of the week? No, it is not because I get to sleep in or I do not have to work. I love Sunday morning because that is when I get my Sunday paper.  That paper- with all those coupons -can save me tons on my grocery bill and sometimes even get me free products! Sunday mornings are my favorite time of the week because it is saving time in my household.
Couponing does not have to be to an extreme. You can start off slow cutting coupons from the paper and organizing them in whatever way make sense to you. I use a binder and then I compare sale ads to what coupons I have. If you don't want to do it yourself, there are couponing websites that will do the matching for you! Then, all you have to do is find the product at the store that matches the coupon or coupons that make the best deal.  Yes, couponing is more work than paying full price, but you are saving money and getting products for your family.
I use coupons for everything now- from food and cleaning products to school supplies and gifts. It has easily slipped into my weekly routine. It takes me about an hour a week, but I save money on everything. Sometimes, I walk to the check out line with a full cart and a bill of 70 dollars before coupons. After coupons, my total will be 30 and I am still getting the entire order that I could have been paying full price for.
For example:  Milk is a hard one to get for free. CVS will have a gallon on sale for 2.99. I will have a coupon for 50 cents off deans and then you will get a dollar back in rewards bucks. So $1.50 is half off so not bad. There is also coupons or sales that you get a gallon free if you buy 4 boxes of cereal or cookies. This is what I look for when I need milk and then plan other coupons around that. 
Coupons might just be pieces of paper, but so is money. And coupons save you money. My grocery bill is down to 25 percent what it use to be. We always have something to eat in my house since we made a nice stockpile- just in case. Anything that I get for free that my family cannot use, I donate. Even if you are not ready for full fledged couponing, using a coupon or two will definitely save you a dollar or two. It is well worth it even if you are only using a few coupons on your usual products. 
Couponing has truly changed my life for the better and I know it can for you too! Start off slow and watch your wallet and stockpile grow! 
Katie and her family are long time supporters of JM Foundation.  She has been growing a stockpile of home goods for us to pass along to the JM families this year.  Thanks Katie for your help – your savvy coupon skills are a huge help to Foodies for Families!